Beaconsfield Kite Fun Weekend
Gliders ready for flight (taken from Dunstable Downs)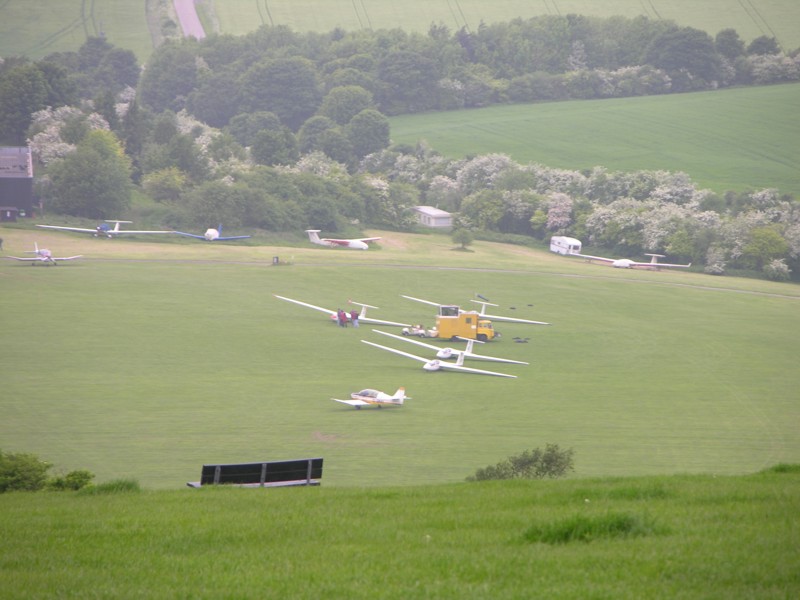 Wow that was close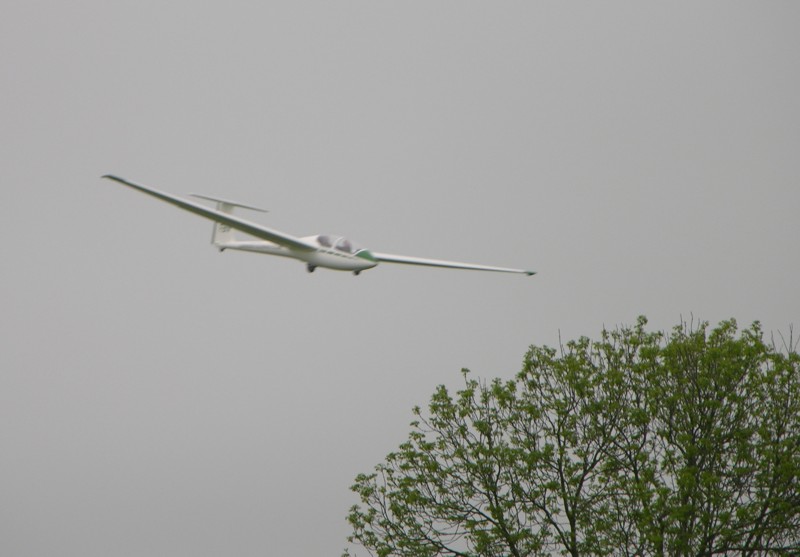 Nice turn, ready for landing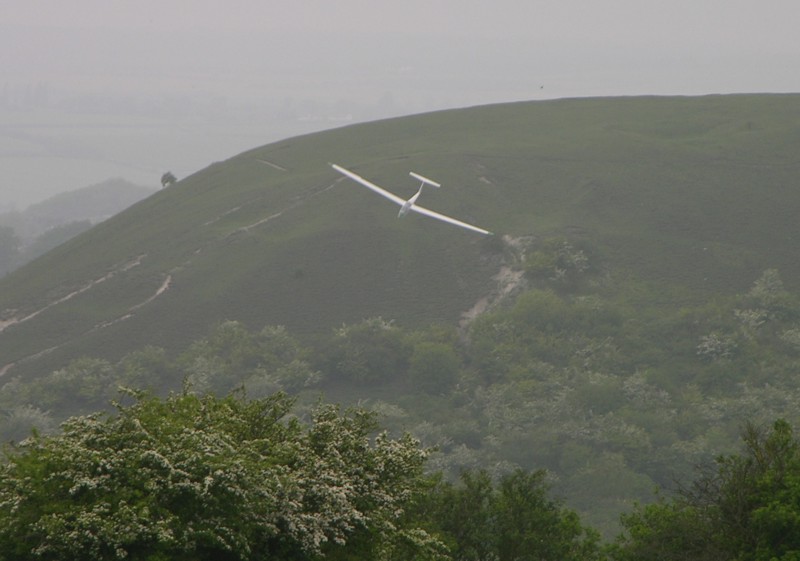 Maurice's Special Kite Flying Site
My Stretch Tucker Atomic Pebble maiden flight
9 years after tearing sail on first assembly (only just work out how to repair)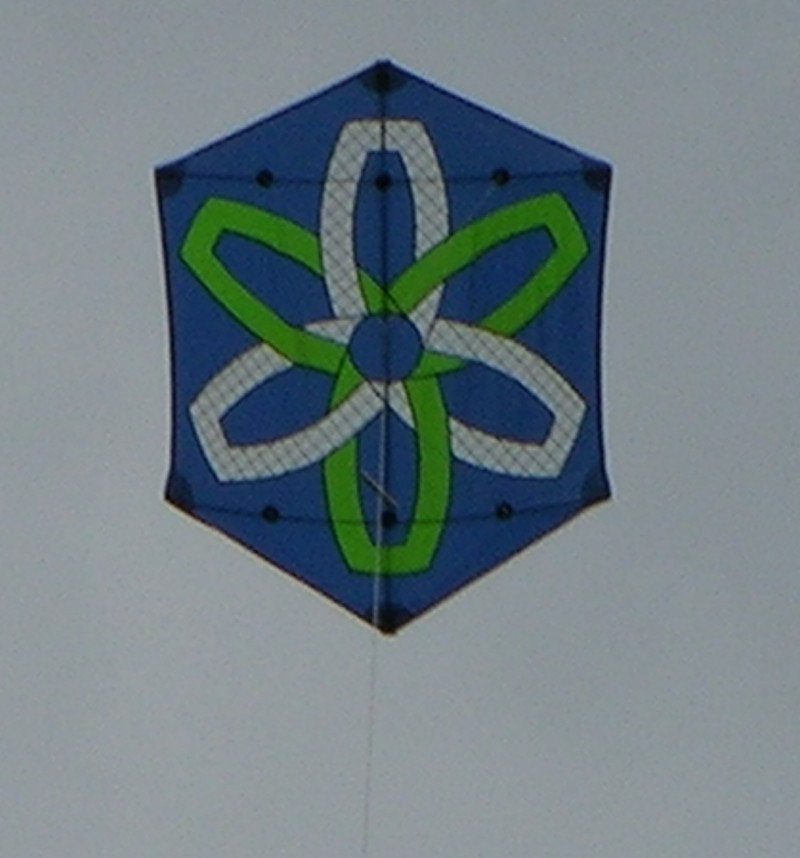 Alan adjusting his new Karl Longbottom kite (I was suppose to pick mine up at Tewkesbury Kite Fun Weekend, but it was cancelled due to rain)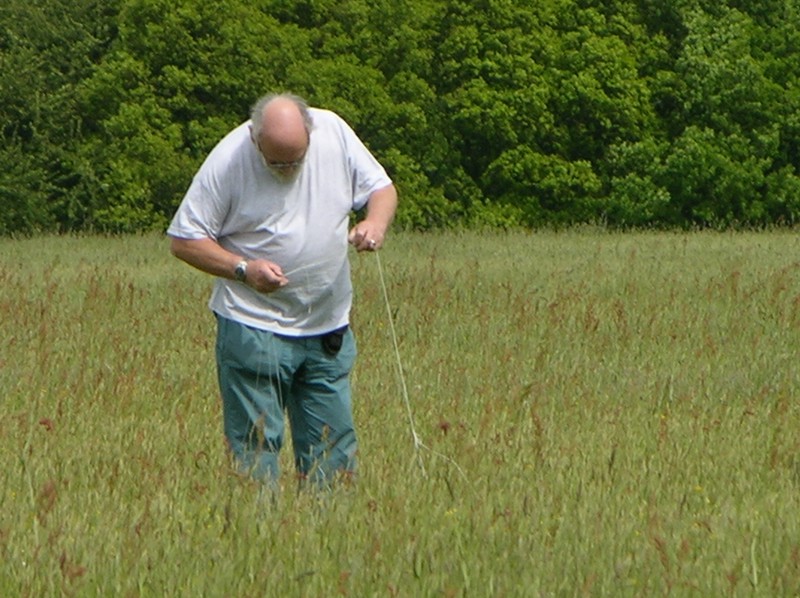 It will be worth the wait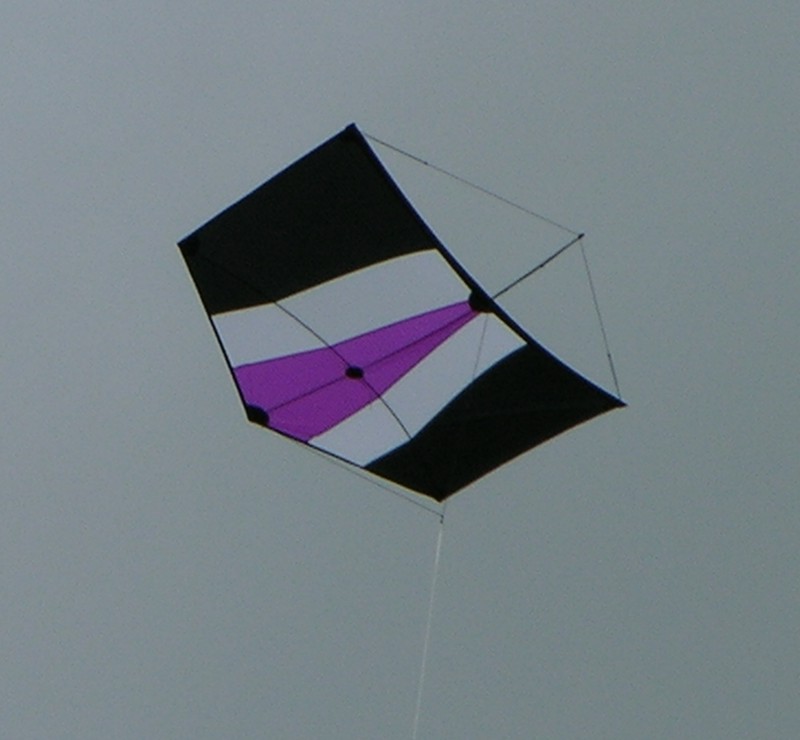 Alan's New Teddy Waylon on his maiden flight, he's the one being dragged up by the Fairy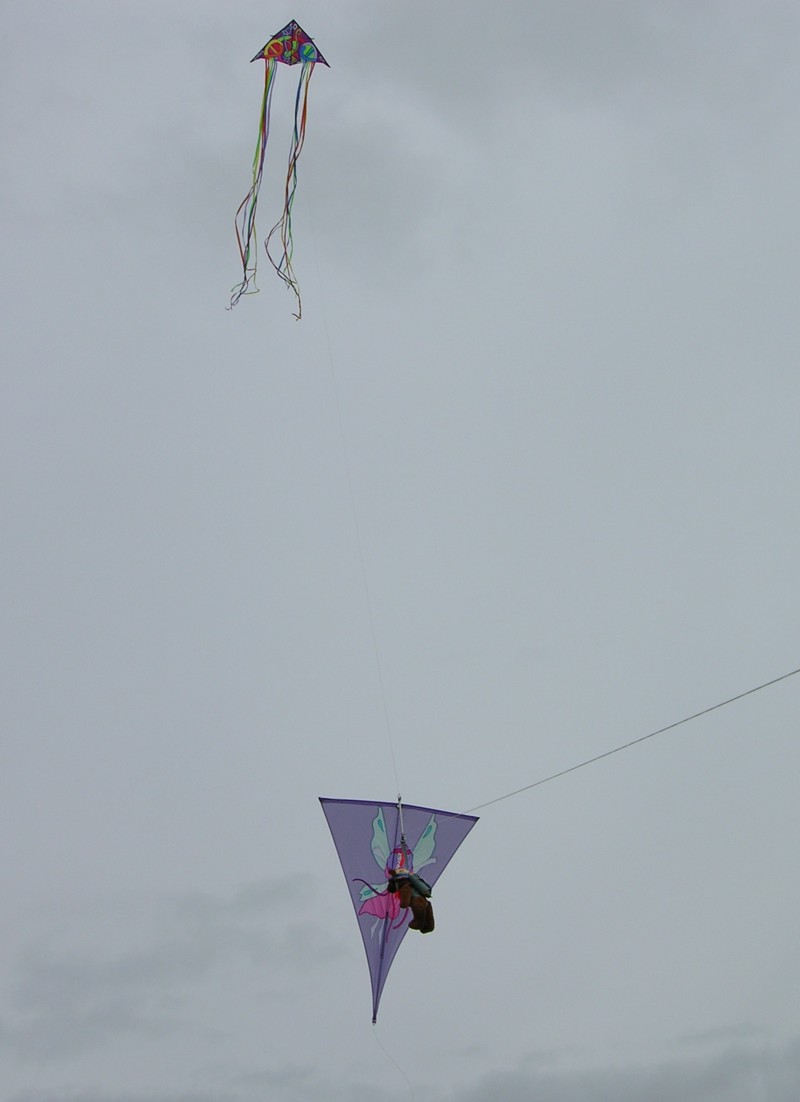 Nearly there, "Hold on Waylon"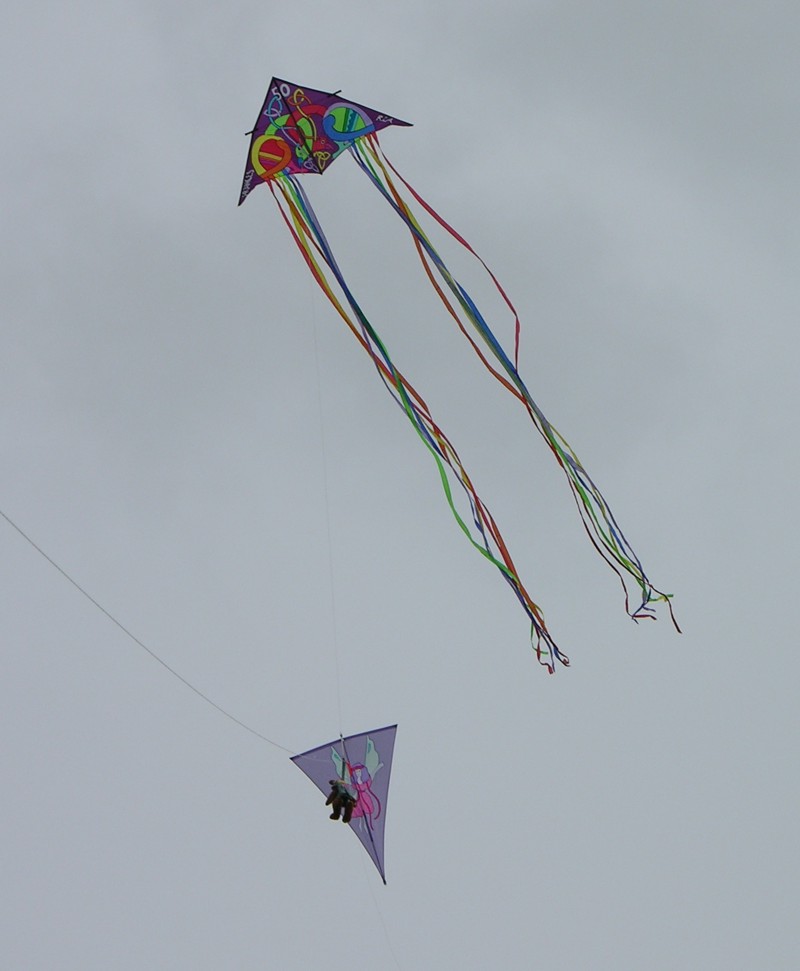 He's on his way, "well done Waylon"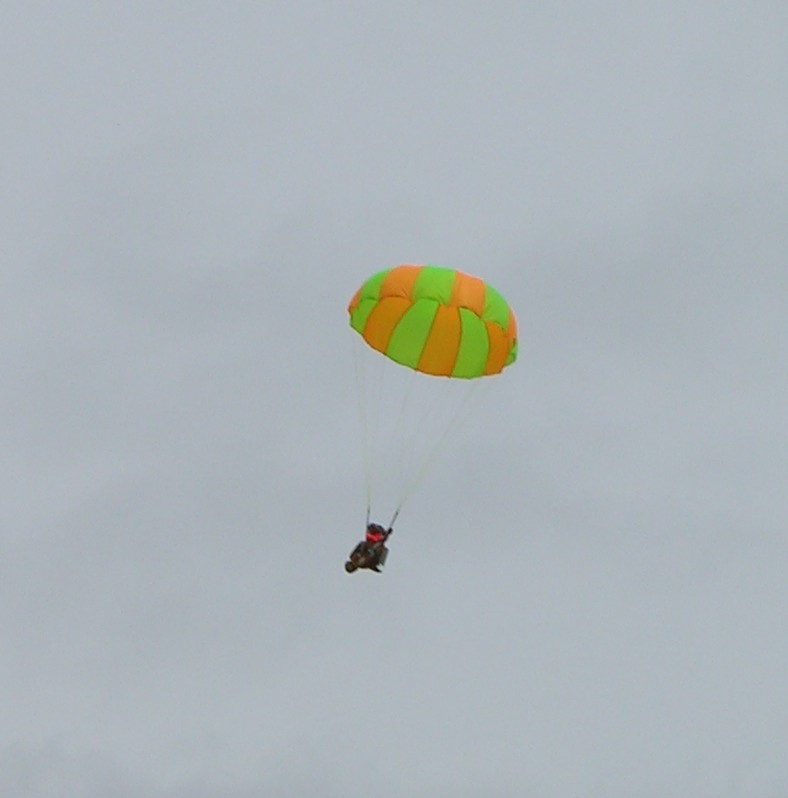 "Waylon!! get ready to bend the knees and roll"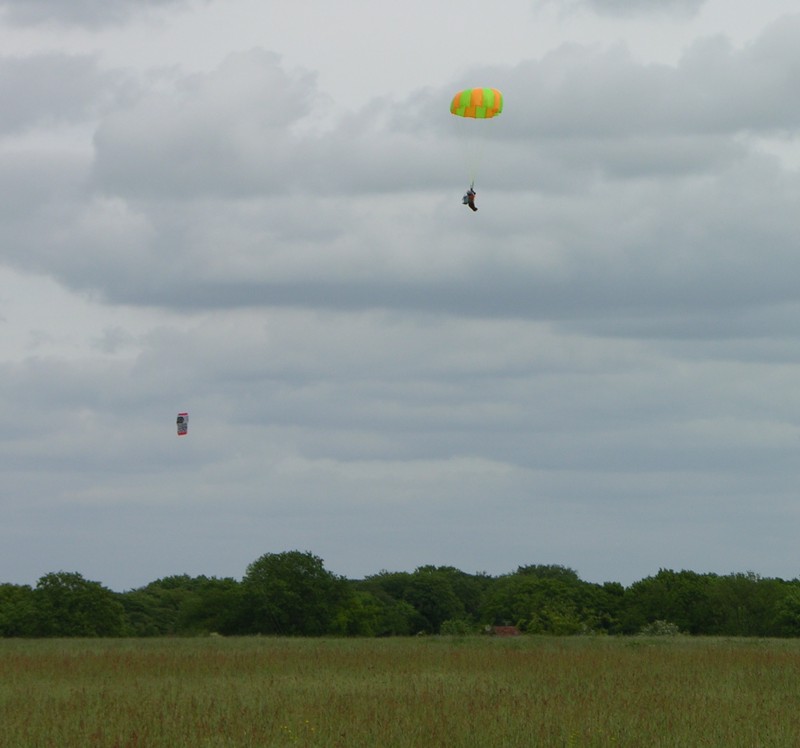 A real kite in flight, one of a pair that were a real sight to see
Alan and Maurice with some new friends we met on the day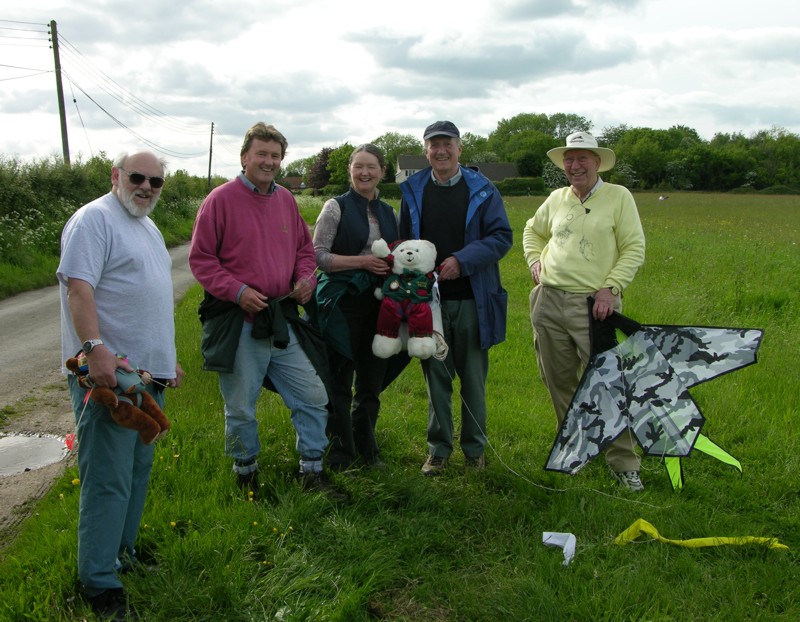 Article as appeared in the Kiteflier the Kite society magazine
Visit Also http://www.thekitesociety.org.uk/
Three Grumpy Old Gits and a Camper
Imagine youíre 10 years old and your told on Christmas Eve that Christmas has been cancelled.
Thatís just how I felt on hearing the news that the Tewkesbury Kite and Fun weekend had been cancelled.
I later found out, thatís how Alan and Maurice felt too.
Kites had been packed, food had been bought, rockets had been assembled, only for the wettest drought I have know to have waterlogged the flying field.
My commiserations to GVKFís, all that work just for the weather to take it away.
Hope to see you all in July.
Alan and I were looking forward to our Camper weekend and our rendezvous with Maurice. The last of the Summer wine Team reunited.
We were all mourning the fact, that we would not be allowed to misbehave again.
Having made up our minds that no matter what, we had to get together, we put on our thinking caps, thatís when the Beaconsfield Kite Fun weekend was born, also to include KS3 science, Sat Nav workshop, Camper maintenance, computer / WiFi workshop and Waitrose / Sainsburyís shopping course.
Little did we realise this would include watching gliders and Red kites (real Kites), a quite unique Jewellers, a fabulous Italian restaurant, meeting new friends, that we hope to see at kite festivals in the future and Alanís amazing Liver and Bacon followed by Fruit with custard extravaganza, in his camper on the edge of a superb flying site ( after an incredible days kite flying) the location of which will remain a secret.
The most important factor in making this weekend so wonderful was the excellent company. Thank you Betty and Maurice for letting us camp on your drive and a very special thank you to Betty, she was hoping for a quiet weekend without Maurice and ends up with Three grumpy old gits to content with, what a star.
Saturday started early, the idea was to have breakfast with a view, not too far from Beaconsfield, and to give Maurice and Betty a chance to get up.
Dunstable Downs was the ideal spot, great views plus a car park without height restrictions, Alan still has to work out the height of the camper.
M25 was OK, M1 road works, thereís a surprise.
On arrival we had to organize camper contents, itís amazing what you have to take, to have a kite fun weekend, then kettle on for coffee, and while Alan cooked breakfast ( he got to the cooker first ) I took pictures of gliders and surroundings.
Great breakfast well done Alan.
Having set up Sat Nav for Betty and Maurice we resumed our journey.
Enjoyed our convoy, itís quite strange how vehicles line up nicely behind a camper.
Stopped of in Berkhamsted, looked interesting as we queued in the Saturday morning traffic jam, found a very interesting jewellers will be going back come Christmas.
Arrived Betty and Mauriceís about Midday, spent a relaxed few hours, sorting Mauriceís new Mobile phone and Sat Nav. Then some shopping at Waitrose, needed finishing touches for Alanís Liver and Bacon for tomorrow. Maurice had very kindly booked a table at a local Italian Restaurant and a wonderful time was had by all.
Sunday, Maurice joined us for breakfast, as planned, had we been able to go to Tewkesbury. After breakfast it was time to put Mauriceís kite bits in the camper, as we intended spending the whole day at Mauriceís favourite flying site, we needed to make sure we had everything with us (we already had the kitchen sink).
What a beautiful site to fly kites and we could park camper right on the edge.
First things first, kettle on for coffee and lunch, camper life seems to revolve around coffee and eating. Then it was time for KS3 (key stage 3) science lesson, how much pressure is required to explode a 2 Litre coke bottle, good job Alan bought his electric pump,120psi (8bar) and pump stalls, coke bottle intact. So we decide to see how far the bottle will travel if released under pressure. It should be noted we did have a safety device, a rolled up sheet of plastic. 5,4,3,2,1 blast off!!!! bottle shoots in to air and swerves all over the place, (Thatís why rocket have fins for stability) but travel quite a long way. Next we assembled the proper rocket, fill to the required level with water (150 ml) attach to launcher and turn on pump....120psi (8bar) 5,4,3,2,1 blast off, and where was I standing right behind rocket, needless to say my glasses looked like a windscreen in heavy driving rain, I never realised how wet you can get from 150cc of water. The rocket flew straight and true 200ft (60Mts). Boy are we going to have some fun with these rockets. Last experiment, if we fill 2 litre coke bottle with water then pressurize can we blow it up? Yes 140psi (9.3bar) good job we had our safety device. This should be looked at as a series of very important science experiments with proper tabulated results and not just 3 old gits misbehaving.
Science lesson over time to fly kites.
During the afternoon we flew several kites, helped other kite fliers with their kites, launched Alanís new teddy Waylon on his maiden parachute jump, and met some new friends, who enquired ďare all kite fliers like youĒ. We did wonder what they were implying. If you go to www.kitesoverepsomdowns.co.uk you can see what we got up to.
The evening was finished off with Alanís Liver and bacon dinner. Well done Alan when can we do it again?
Monday, much more relaxed, still very enjoyable, camper repairs, thanks for the tools Maurice, more shopping, the food keeps running out, Sat Nav lessons and logging on to the unsecured wireless networks near Maurice, surfing the web for nothing. There really should be more warning for your average wireless network user.
Even the journey home was relaxed, we didnít stop once on the M25.
All that remains is to say THANK YOU to everyone who made this weekend so great
and lets hope we can do it all again some time.
Keith Boxall